Årets andre FORUM utgave publisert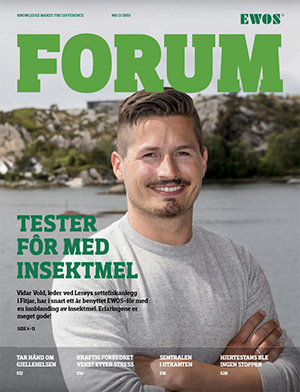 FORUM is the customer magazine of Cargill in Norway. In this year's second edition you can read about how insect meal is becoming a sustainable ingredient in fish feed, and experiences of a customer having testet this feed for one year.
Online edition here (Norwegian only)

Further you can read about the latest research results proving that EWOS DERMIC, in addition to support wound healing, provides more than 14% increased growth rate in connection with thermic treatment.
FORUM has visited the feeding headquarter of Firda Seafood, located at Gulen municipality. You can read about recruiting employees in this remote location, and the jobs this HQ provides as well as contribution to local society.
If you are customer of Cargill in Norway, you have probably met many of our dedicated employees. In this edition you get closer aquainted to customer consultant Stale Theimann.
This and much more in this edition of FORUM
Sheila Shears, Marketing Communication Manager
[email protected]