Cargill provides food, agriculture, financial and industrial products and services to the world. Together with farmers, customers, governments and communities, we help people thrive by applying our insights and over 150 years of experience. We have 155,000 employees in 70 countries who are committed to feeding the world in a responsible way, reducing environmental impact and improving the communities where we live and work.
Cargill established its activities in Norway in 2015 with the acquisition of EWOS, a global leader in salmon nutrition. Cargill employs about 366 people in 8 locations in Norway, the locations include three feed manufacturing facilities and a state-of-the-art Research & Development center.
EWOS is now integrated into Cargill Animal Nutrition as a business called Cargill Aqua Nutrition representing the EWOS brand.
For more information about Cargill, visit www.cargill.com.
Cargill Aqua Nutrition's Head Office in Bergen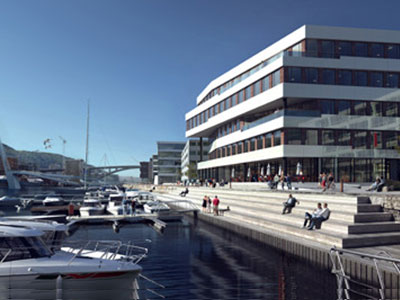 Cargill Aqua Nutrition's head office is located at Thormøhlensgate 51B in Bergen, which is the Lanternen building at Marineholmen Technology Park.
Our Factories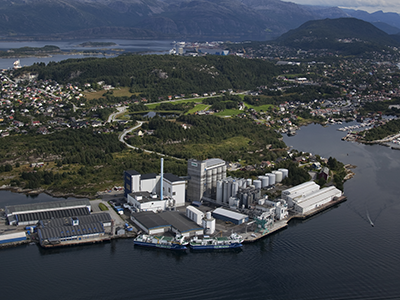 Cargill has three modern factories in Norway: Florø on the western coast in the Sogn&Fjordane region, Halsa at the mid-northern region in Nordland, and Bergneset in the north which is Cargill's northernmost location globally. All factories are cornerstone empoyers in their communities.
Cargill deliver EWOS-feed to customer 24/7, seven days a week, from the Stavanger area in the south to Hammerfest all the way north. More than 95% of the deliveries takes place by boat.
Innovation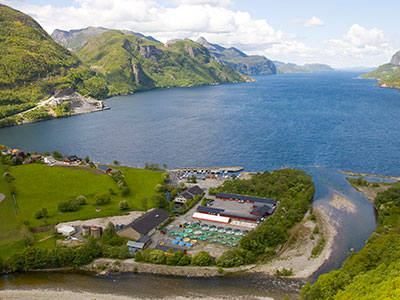 Cargill Innovation Center in Dirdal, former EWOS Innovation, are pioneers in fish feed research and innovation, with a long history of brave and important R&D investments. This tradition is continued as part of Cargill.
The innovation center focus is research on nutrition and nutrition-related areas for salmonids, including feed processing and raw material development
These state-of-the-art R&D facilities, including world-class researchers, has laid the foundation for former EWOS, now Cargill, can offer the very best fish feed and advice to customers, and be the trend-setting innovator in the aquaculture industry.
Feed Delivery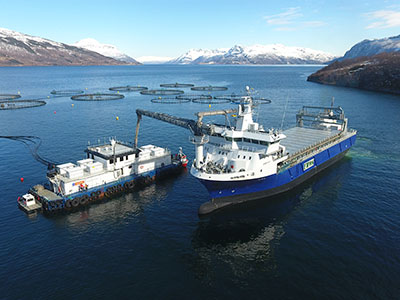 Cargill deliver EWOS-feed from our three factories to customer 24/7, seven days a week, from the Stavanger area in the south to Hammerfest all the way north. More than 95% of the deliveries takes place by boat.
Our History
EWOS'S history is long and complicated. The company has been owned by Swedes, Finns, Danes and Norwegians, and in 2000 it was amalgamated with NorAqua. In 2013, Swedish/American private equity owners Altor and Bain took over, and in August 2015 they announced the sale of EWOS to Cargill.
1931 EWOS is established as a general partnership ('handelsbolag') in Sweden, by Erik Berggren, Wiktor Wiede and Olle Sjøstedt. Hence the name EWOS
1935 EWOS AB was acquired by the pharmaceutical group AB Astra.
1949 Norsk Landbrukskjemi AS, sister company of EWOS in Södertälje, Sweden, is established in Norway.
1974 Agreement concluded between EWOS and Felleskjøpet. The fish feed is marketed under the brand 'FK-EWOS'.
1979 Alfa Laval AB buys EWOS from Astra AB.
1987 Norsk Landbrukskjemi AS changes name to EWOS AS. Cultor buys EWOS from Alfa Laval.
1988 EWOS and FK part company and EWOS establishes itself on its own in Norway.
1996 FK Aqua (FKT) and Stormøllen Havbruk (Statkorn Holding) create a new fish feed company: NorAqua.
1997 NorAqua and fish feed development company FKF merge.
1999 The Danish company Danisco AS buys Cultor OY from Finland.
2000 Statkorn Holding (later Cermaq) buys EWOS from Danisco, and EWOS and NorAqua are merged.
2013 CERMAQ sells EWOS to the investment funds Altor and Bain Capital.
2015 The investment funds Altor and Bain Capital sell EWOS to Cargill