Recirculating Aquaculture Systems nutrition research gets boost as Cargill invests in new capabilities, partnerships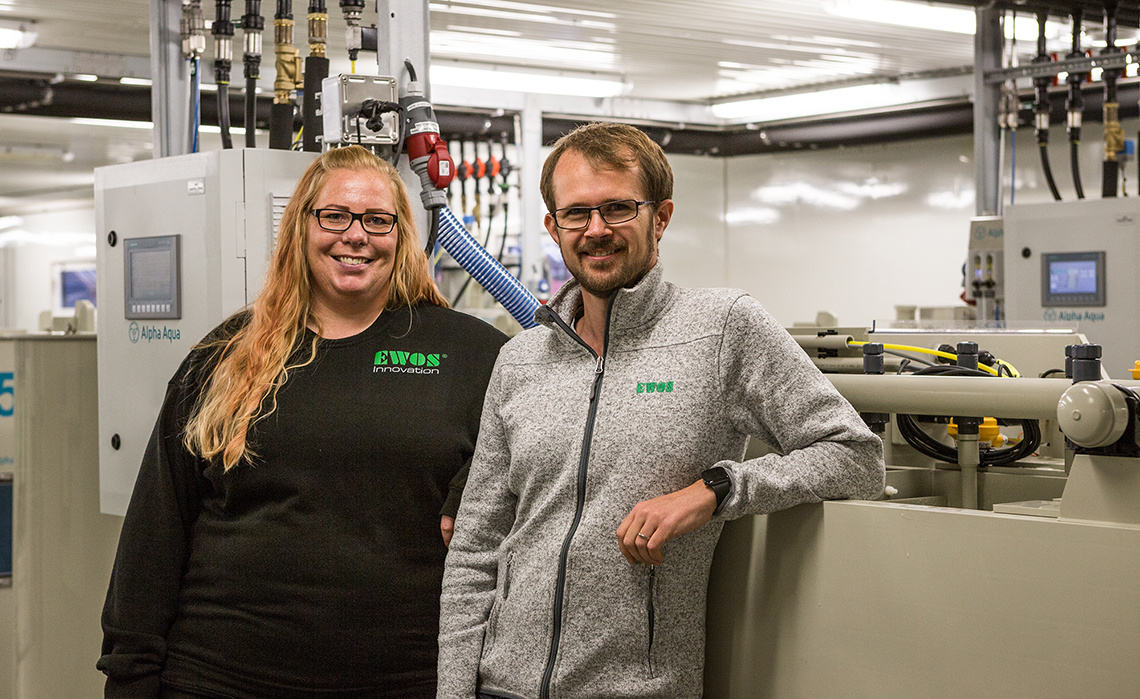 (Bergen/Dirdal, Norway) 11. September 2020 – Recirculating Aquaculture Systems (RAS) continue to grow in popularity as the global salmon farming industry invests in larger RAS facilities. However, with larger facilities, growing post-smolt on land comes with increased complexity, driving a need for more innovation and research. To help meet that need, Cargill today announced it has invested in and established a new lab focused on RAS and the nutritional and welfare needs of salmon farmers now and in the future.
The $1 million investment allows for upgraded independent recirculation units in the lab which enable Cargill's scientists to conduct continuous concept testing of new feed solutions covering all aspects of RAS production. Thanks to great efforts by both employees and contractors keeping a strong focus on safety and efficiency, the new lab was completed on schedule without accidents or delay, despite all of the challenges related to the compliance with the new COVID-19 measures.
The lab adds to Cargill's existing innovation center in Dirdal, Norway, where research has been conducted for more than three decades.
There is a clear strategic shift in the aquaculture sector, as more salmon are being farmed on land for some or all of their lifecycle. To maintain our leadership in the salmon market, we are determined to help both potential new and existing customers to execute their new strategies to farm in different ways – including RAS.
"We've seen a tremendous increase in RAS investments in the recent years," said Dan Burke, Cargill Aqua Nutrition regional managing director. "With advances in this technology and limitations on growth in conventional salmon farming, there are long-term opportunities for growth in RAS and we will make the next generation of RAS feeds to support that growth."
Cargill also believes that collaboration is key to delivering cutting edge solutions: it has formed strategic partnerships with key research institutions to work together and conduct trials.
Cargill is the first customer of Marineholmen RAS lab, an R&D company affiliated with Industrial and Aquatic Laboratory (ILAB) in Bergen, Norway. This new lab offers state-of-the-art RAS research facilities and replicate systems that allow proof of performance trials to compare how different feeds affect both the fish and the system. This will lead to new RAS feed diets that deliver a more robust fish. The facility recently opened for business and is already running its first trial on Cargill feeds.
The partnership with Marineholmen RAS compliments Cargill's longstanding collaboration with The Conservation Fund's Freshwater Institute, a pioneer in RAS research in North America.
The Freshwater Institute provides Cargill with a range of RAS platforms from replicated experimental systems to commercial-scale systems, as well as world-class operational and technical RAS expertise. A study commissioned at the Freshwater Institute in 2018 resulted in Cargill developing its most successful grower feeds, for RAS to date.
"Our RAS feeds take a holistic approach with focus on feed quality, digestibility, faecal stability and mineral availability," said Burke. "Our nutritional knowledge and ability to learn quickly allowed us to meet the salmon's needs through variable farming conditions and health challenges. Still, RAS is complex and requires expertise, so expanding our research capabilities is an important step to us for the future as leaders within RAS nutrition."
The company's next generation RAS feed is currently under development, and will build on the success of the existing EWOS CLEAR feed design principles.
"These investments and partnerships are an important next step for us in our efforts to make our customers more successful," said Burke. "We believe RAS will be a critical part of aquaculture production in the future and so we continue to lead by expanding our expertise and capabilities in RAS nutrition to better support our customers."
Media Contact: [email protected]